We're excited to announce that Jasmine Hemsley (@jasminehemsley), best-selling author, chef and wellbeing expert is our new Burt's Bees ambassador! We love Jasmine's approach to mindful living, her passion for nature and commitment to sustainability. We couldn't
be more excited to see her and her baby's journey with our products.
At Burt's Bees, we believe in protecting and preserving nature, and we choose to partner with passionate nature-lovers who share those values. That is why we're thrilled to announce that Jasmine Hemsley is our new brand ambassador.
A best-selling author, Founder of East by West, chef and wellbeing expert, Jasmine uses her platform to promote a 360-degree approach to health, and encourage a return to a simpler, more mindful way of life. She reminds us that we are one with nature (rather than separate from it), and of the importance of understanding how our own health is intrinsically linked to the wellbeing of the planet.
We caught up with Jasmine about her journey with our products so far…
Q:
How have you been caring for your bump during pregnancy? 
A: "Right from the off, I started massaging in creams and oils. It was such a lovely way to connect to the baby (even when it was the size of a pea!). As the pregnancy progressed, the growing bump was crying out for hydration and conditioning oils so that's what I gave it. It went from once a day to three times a day — and now I get to feel my little one's feet as I do it. Strange but true!" 
Q:
What are your top tips for baby massage? 
A: "I've been learning about baby massage from my Ayurvedic practitioner friends: Warm the oil in your hands or use an oil warmer, make it a wonderful bonding time for you and baby, and allow the slow rhythmic movements to soothe your nerves too. Find a warm place and comfortable way of doing it — you don't need more backache than you currently have… And keep those nails short! "  
Q:
What kind of products 
will you
 use on your baby? 
A: "I will be using products that are as natural as possible, not overly fragranced other than what is required for its nurturing properties within the product, so I can smell my baby's natural scent come through for that beautiful flow of oxytocin between us that I'm so looking forward to."  
Q: 
What's your go-to skincare or body product 
to 
take to a desert island? 
A: "Hand cream, body oil and lip balm!"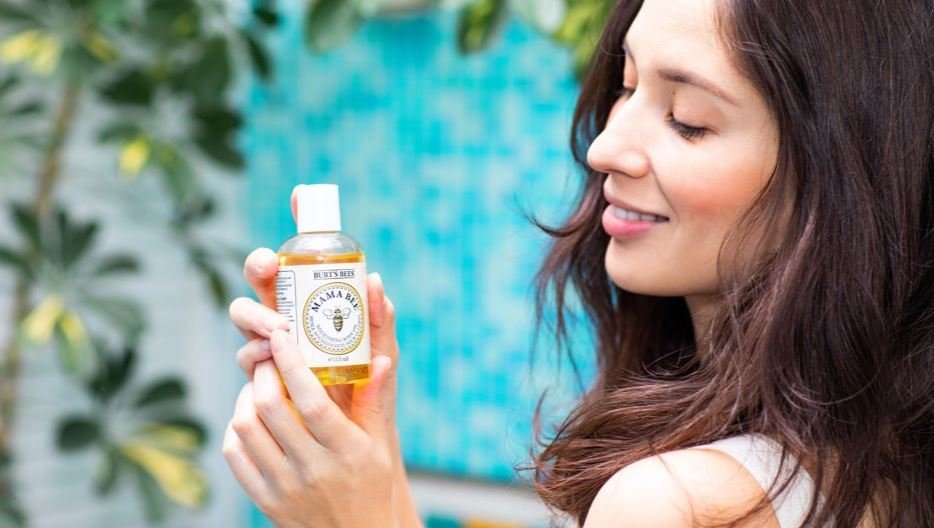 Q:
Are there any skincare or body rituals that you live by? 
A: "Before pregnancy, I'd give myself an Abhyanga self-massage weekly — it's an Ayurvedic ritual using nurturing oils. It has so many benefits, from hydrating my skin to making me feel relaxed and centred. These days, I do a modified one daily as a great start to the day or a blissful wind-down. I use it as a kind of therapy as well as taking care of the Vata dosha, which is identified in Ayurveda as really important in pregnancy to stay grounded, nourished and calm.  
I have naturally quite dry skin, so I need lots of moisture to counteract that. Sipping hot water from an insulated flask works well for me throughout the day and I also have my favourite natural face serums, creams and oils, which I switch up according to the season (in the Winter, I need more intensely hydrating products).  
Last but not least, if there was only one ritual I could swear by, it would be Tongue Tingling (AKA tongue scraping). I do this first thing in the morning every morning to get rid of the buildup that accumulates overnight on my tongue. It freshens the breath and helps to prevent infections too!" 
Q:
What's the best beauty and skincare advice you've ever been given?
A: "Sleep! And work with nature as much as possible in life — it will pay off in the long term." 
Q:
Which Burt's Bees product is your favourite? 
A: "There are so many, but currently it has to be the All Aglow Highlighter in Bronze Splash which is at the ready by my laptop as I type this to add some summer sun and shine (but not too much shine!) for on-screen video meetings and to just generally make me feel better during these short days and long nights."