Our very own product designer tells us what 'conscious beauty' means to her and discusses the path that led her to considered skin care. 
For more than a decade, chemist Abena Antwi has been the scientific mind behind Burt's Bees eco-friendly, natural skincare products. You can find her in our lab, blending, measuring and balancing her formulas until she's perfected your next favourite lip balm, face lotion or baby cream. We caught up with her to talk about her views on 'conscious beauty' and how life led her from her native Ghana to a globe-trotting post as our product designer and research fellow. 
Q: How did you get started in your field?
A: "There were two fields in my household—nursing and teaching. My dad was a nurse, my mom was a nurse and a teacher, one of my sisters is a teacher, another is a nurse. I actually wanted to be a nurse at first, but I left nursing and majored in chemistry. I've always been interested in math and the analytical aspects of science. 
I was thinking about where to go with this chemistry degree, and in my last year of college, I got offered two internships: one with L'Oreal, and one in the pharmaceutical field. I thought: "Okay, making lipstick or doing analytical work?". Lipstick won.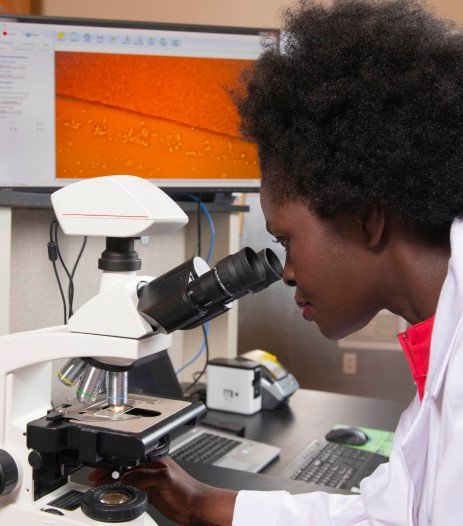 The internship was supposed to be three months. I was so intrigued by what goes into the cosmetics industry. I had no idea, going through school, that you could take chemistry and actually apply it to makeup. When the three months were up, I asked them if I could keep working. That's when everything started—my curiosity about raw materials, sourcing ingredients, everything. 
It became a passion. I think it gives me a level of satisfaction that there's something at the end of your work that somebody is going to love."
Q: What it was like moving from traditional cosmetics to a natural skincare brand?
A: "I came to Burt's Bees for my interview, and I was hooked. The man that interviewed me was sitting yoga style, with no shoes on, candle burning behind him in a dark office. I thought: "What did I get myself into?". He was just sitting on the floor, talking, and we really connected. The lab only had 2 or 3 chemists and it was scary looking at the bottles of oils and natural waxes. I was used to using a lot of synthetic products. 
Going from formulating synthetic ingredients to natural origin ingredients was like day and night. 
The first formulas that I worked on were the Peony and Caramel shades of Lip Shimmer. I had a full understanding of synthetic ingredients, so it was a surprising experience. Going from formulating synthetic ingredients to natural origin ingredients was like day and night."