We have teamed up with London based Mexican-British watercolour artist Ingrid Sanchez (@creativeingrid), to create an exclusive limited edition tote bag inspired by our Squeezy Tinted Lip Balm range.
Drawing inspiration from the colour and fruits used in the balms, the design features a graphic bee surrounded by berries, mandarins, peaches and watermelons in Ingrid's signature loose, playful style. Designed from 100% sustainable cotton, it's reusable and a stylish way to carry all your everyday essentials.
Get your exclusive tote bag for free when you spend £25 for a limited time only.
We chatted to Ingrid about her design process and the inspiration behind the totebags
Tell us a bit about yourself and your art…
My name is Ingrid Sanchez, I am a Mexican-British watercolour artist based in London, U.K. My painting style is very colourful and experimental. I love painting themes related to nature, especially loose florals and botanicals. You can find me on social media as CreativeIngrid.
We would love to know more about the design process behind the artwork for our tote bags?
I created a palette based on the colours of the new Squeezy tinted balm by Burt's Bees. It was a fun process trying to match the colours and flavours of a cosmetic using watercolours.
The first thing was to apply the balms on paper to assess the colours properly and match them using my pigments. To continue with the concept of colour and flavour, I painted the fruits used in the balms but using the bee of Burt's Bees logo as a template. The result is a bee surrounded by berries, mandarin, peaches and watermelons with my signature loose style.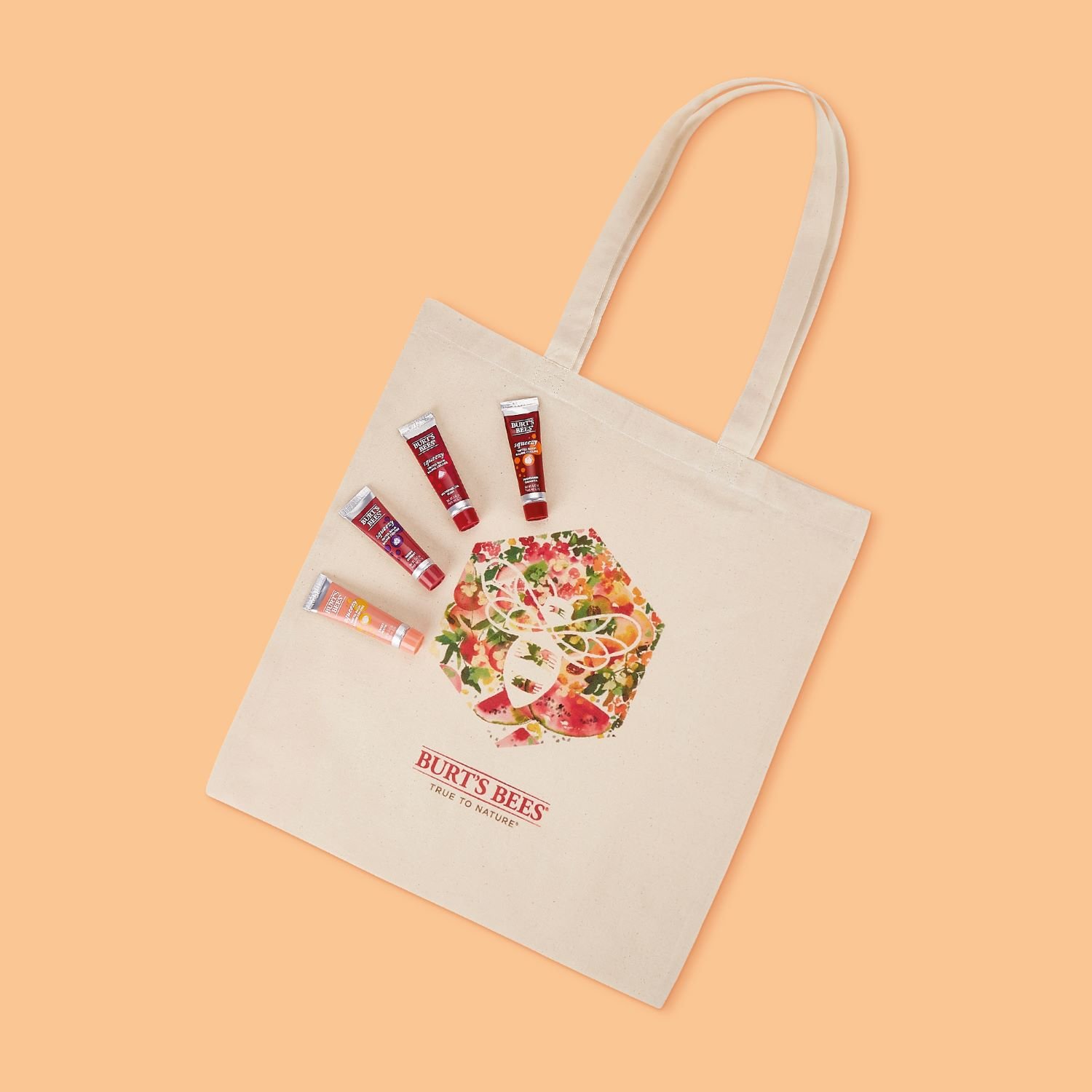 Can you give us an insight into your creative process?
Every collection I develop starts with an idea or concept I have a personal interest in. So before I even grab a brush, I always go through a phase of researching. This can be either taking lots of photos related to my theme so I can analyse all the different possible angles, colours and textures, or studying how other historically-renowned artists have made their own interpretation of my theme.
The actual painting process always starts with the preparation of materials, my space and a long meditation. I play and experiment constantly, all my paintings have their own story and unique process.
Can you tell us what you're working on at the moment?
I have lots of exciting things happening right now. First of all, I am very happy that my book 'DIY Watercolour Christmas' will finally be released this month. I ran a pre-release of signed books, which has kept me very busy lately, plus some marketing events I am working on.
Secondly, every year I paint a 'Mini Summer Collection', which I am starting to share on my social media, and I am in the research phase for my Autumn Collection.
And lastly, my art will feature on lots of new products in collaboration with different brands and these will be launched in the upcoming months, including for the first time a collection of blankets.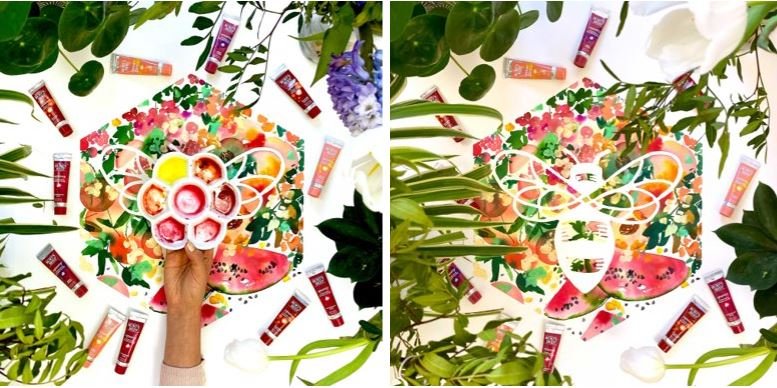 Do you have any tips for anyone looking to get started doing watercolour art?
Buy a basic set of watercolours that include a diversity of colours and invest in good quality paper, because it can make a huge difference.
There are lots of free and paid resources online that can help you start. If you want to take it seriously take workshops with different artists to learn different techniques and styles. There are many ways to paint with watercolours and seeing others paint is key to helping you develop your own style.
What are you most inspired by?
Even though I love nature and you can tell that it is my main theme and source of inspiration, the truth is that I can find it in all the details of daily life. Inspiration can come from a conversation, a book cover, a surprisingly thought during a walk. I feel that all I need to do is to be aware and open up to it.
Which Burt's Bees product is your favourite?
I absolutely love the Almond & Milk hand cream, it is very thick and feels very rich. It is very helpful especially on days that I have to wash my hands throughly because of all the pigments I handle. Even though it is a hands cream, sometimes I use it on my face too!