At Burt's Bees, we believe in celebrating and collaborating with individuals who share our passion for the natural world and preserving its beauty. That's why we're thrilled to have Ed Stafford and Laura Bingham, a couple renowned for their brave expeditions and love of the outdoors, join the Burt's Bees family!  
If you're not familiar with their work, allow us to introduce you.  
Welcoming Ed & Laura to the Burt's Bees Family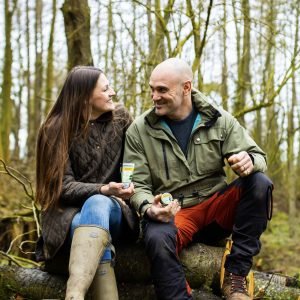 Ed Stafford is a Guinness World Record holder, having been the first man to walk the Amazon. Sir Ranulph Fiennes described the expedition as being "truly extraordinary… in the top league of expeditions past and present." 
He was named the European Adventurer of the Year 2011 and is a key face of adventure on the Discovery Channel, helming several shows including Naked and Marooned, Marooned with Ed Stafford, and Into the Unknown with Ed Stafford. 
Laura Bingham is a British explorer in her own right, having travelled extensively in her early adulthood. She speaks fluent Spanish and spent time in Mexico teaching English and helping with a jaguar conservation project. In 2014, she made the bold decision to attempt to sail across the Atlantic Ocean. With zero experience she blagged her way onto a 38ft trimaran, alongside two sea-faring men and a cat called Cuba. 
We caught up with them about their adventurous lives and their favourite Burt's Bees products to take on expeditions.  
Ed & Laura are

 our new 

ambassadors!
Q:

 

T

ell us about your journey so far? How did you become

 

adventure

rs

?

 
Ed Stafford: "I grew up in the countryside and we were always outside, so I guess I felt most comfortable outdoors. In an attempt to avoid an office and a desk, I joined the military and was a captain in the infantry – but, for many reasons, the Army wasn't where I felt relaxed and happy. It did equip me, however, with the skills to take a cool-looking job as an expedition leader to Belize in 2002. That was when I realised that it was possible to make a career for yourself travelling and spending time outside, without having the discipline and seriousness of the armed forces."
Q: W
hat
has been your most life-changing experience 
whilst 
travelling? 
Laura Bingham: "Sailing across the Atlantic. It was that journey that made me realise that I was capable. It exposed me to the idea of expeditions and not just getting on buses and seeing different places. It was probably one of the most exhilarating and boring times of my life, stuck on a 28ft trimaran with no signal and one book (Forest Gump, that I read 5 times!) It gives you plenty of time to think. When I got back, everyone was so impressed with what I had just done that I wanted more of that validation feeling, which started my expedition journey. Now I'm nearly 30 with 3 children, I no longer need that sort of validation but, as a 21-year-old, I did."
Q: W
hat is your
favourite
 on-the-
road
moment?
Ed Stafford: "At the end of a week-long trek in Belize from Five Blues Lake to Gales' Point, I was leading a group of 8 or so gap-year kids and they were hobbling. The jungle had been tough and one girl had such chafing between her legs that she could hardly walk and was in tears. Then, with 20 km or so still to go to the Caribbean coast, we broke onto a dusty track and saw a truck piled high with oranges. I saw an opportunity and the driver kindly let us ride on top of the oranges to the ocean and eat as many as we liked. The huge smiles sitting up high on oranges, all with juices flowing down our faces, was worth the blind eye that I turned in terms of risk assessing the big old fruit lorry as a safe means of transport."
Q: W
hat are the top 3 things on your bucket list
?
Ed Stafford: "Walking across Antarctica. Rowing across the Southern Ocean. The pubs being open again!"
Q: Do
you have any quotes or mantras that you live by?
Laura Bingham: 
No one said it would be easy, they just said it would be worth it.
– Harvey Mackay
"I tell myself that every day. I also like "God give me strength to change the things I can, courage to accept the things I cannot and the wisdom to tell the difference" – a slightly altered serenity prayer.  And you can find any applicable quote for how you're feeling in Winnie the Pooh."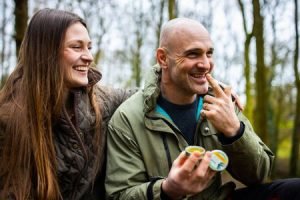 Q: W
hat is the best advice that you have ever been given?
Ed Stafford: "Never eat yellow snow! The second–best was from a great Aboriginal Australian friend of mine, Jeremy Donovan, who explained the Aboriginal belief that we all have 3 brains: the biggest being the gut and the instinct; the second biggest being the heart and the emotions; and the smallest (and least significant) being the logical brain in our heads. Before spending 60 days in isolation, I went to Jeremy for advice, and he said if you spend your time in the logical brain, you will tie yourself in anxious knots. You have to step back from your thoughts (and to an extent your emotions) and live from your gut. It's pretty solid advice, I'd say." 
Q: W
hich Burt's
Bees 
products are your 
favourites
? And which would you take on your next adventure?
Laura Bingham: "The Burt's Bees lavender hand moisturiser, lavender lip balm, and overnight intense moisturiser (there's a theme here! The skin gets quite dry on travels). I went through my entire face moisturiser in the first week when I sailed the Atlantic. I'm really excited to try the Burt's Bees Res-Q ointment as that could be a one-stop-shop to minimise weight on travels. Burt's Bees shampoos are great as they're natural products and washing in streams with them won't impact the environment."